Not many people are aware that all search engines maintain a blacklist of sites. These are websites, the search engines will do not display on their result pages.
Why do they have such a blacklist of websites?
For a search engine, good user experience is important. Protecting its users from harmful websites is one such good user experience requirements.
Websites that have been blacklisted will display a strong message such as "This site may be compromised", or have a red screen enveloping the entire website.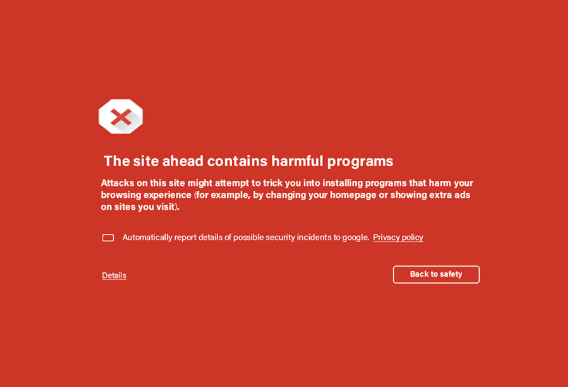 If your website is on a search engines' blacklist, not only do you lose organic growth, but more importantly, you lose both reputation and goodwill. All goodwill with the current domain will be lost; On search engines, your website ranking will drastically drop.
In extreme cases, you might even have to rebrand your business and get a new domain name. All goodwill and organic traffic will be lost and you need to rebuild everything. That takes a lot of effort and time.
You might have to embark on a costly rebranding campaign to inform your audience of your new website.
How do websites get on the search engine's blacklist?
There are various reasons why a site is blacklisted.
Blackhat SEO tactics. For the purpose of ranking higher on Search Engine Result Pages (SERP), some SEO specialists might adopt practices to duped them to rank the page higher. Tactics like cloaking, excessive link exchanges are some of them. You can read more of some blackhat SEO tactics.
Spammy website. A site can be spammy due to malware putting out spammy content. This might result in unhappy site visitors and this doesn't go down well with Google if the site gets discovered.
Website spreading malware. In some instances, your site could be used to download malware to unsuspecting users. Once this is picked up by the search engines, users will be shown a red screen to warn users from proceeding further. Your website will be quarantined and eventually blacklisted.
Website that plagiarizes. If a website is stealing content from other sites and making it it's own. The artificial intelligence capabilities of the search engine can quickly and easily pick it up. Being blatant about it and you will soon get blacklisted too.
The sad and truthful part is that you might not even know that you have been banned by the search engines.
It has been reported that typically a malware could be residing on a website for 3 to 6 months without the website owner's knowledge. Things start to surface when either you are notified by your web host or worst still by your customers and potential prospects.
It is not the search engine's role to remove malicious code. That will fall onto the lap of the website owner. If you have Google Search Console in place, you could get a warning.
Take a proactive approach
Instead of a reactive approach, which is challenging and detrimental, we would recommend a proactive approach – have an alert mechanism, link your site up with Google Search Console, and implement an anti-malware solution.
We believe as a site owner; you should be the "first to know" of anything that is happening on your website (including the presence of malware) instead of the search engines or anyone else. News, especially negative ones, when made public, can be hard to manage and might spin out of control, resulting in negative publicity.
Reputation is priceless. Why risk it?
One way to avoid it is to deploy an alert mechanism. Once an alert is triggered, you can start your own internal investigation and quickly rectify and contain the problem.
Next is to have a good anti-malware solution to nip the problem at the bud. If anti-malware is in place on your site, it would be able to pick up the malware and tackle the malware before it can do its damage.

We can help you to get you ready and avoid trouble with the search engines.
If, however, you are already on the search engine's blacklist, you can head to Google Search Console to take the necessary actions to remove the malware if any is present. Next, you would need to check on all login credentials and remove infected files manually. Or if you have an uninfected backup, you can restore it. Just confirm there is no malware in the backup.
Once you have taken the preliminary effort to make your website "good" again, you can then initiate a removal request through Google Search Console. These might take days.